11:00 – L.I.F.T.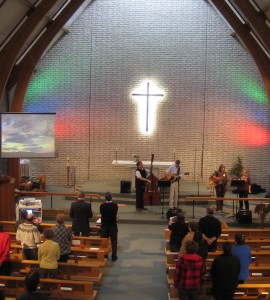 The L.I.F.T. congregation invites people of all ages to worship God in a contemporary way. The worship includes modern Christian music, prayer, bible readings, talks, presentations, times for reflection, thanksgiving and Holy Communion. The use of Multi-Media enables those who gather to focus on worshipping within a welcoming community.
Our Busy Bees program runs within L.I.F.T. and provides activities for preschoolers, helping you to enjoy the service.
A cuppa and a chat are enjoyed in the foyer afterwards.